In 1974, the Federal government enacted the Safe Drinking Water Act (SDWA), which is administered by the Environmental Protection Agency's (EPA's) Underground Injection Control (UIC) program. The UIC program was not designed to avoid induced seismicity, but rather to protect underground drinking water sources from contamination. The UIC Program regulates six classes of injection wells, based on the type of waste injected and the depth the waste is injected underground.
Class I: Industrial and Municipal Waste Disposal Wells
Class II: Oil and Gas Related Injection Wells
Class III: Solution Mining Wells
Class IV: Shallow Hazardous and Radioactive Waste Injection Wells
Class V: Wells that Inject Non-Hazardous Fluids Into or Above Underground Sources of Drinking Water
Class VI: Geologic Sequestration Wells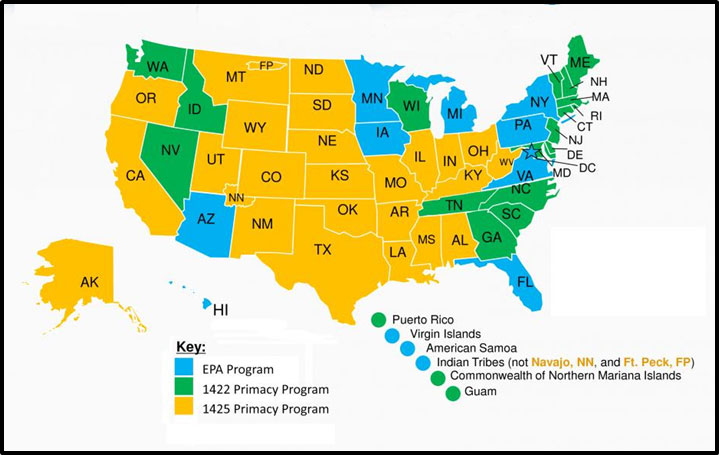 UIC Program primary enforcement authority, available at https://www.epa.gov/uic/primary-enforcement-authority-underground-injection-control-program
UIC programs can be administered by the federal government, or by states, territories, and tribes. Non-federal UIC programs must be approved by the EPA, granting the requesting entity primacy under SDWA Section 1422 and/or SDWA Section 1425. SDWA Section 1422 applies to all classes of  wells, while SDWA Section 1425 only applies to Class II wells. A state, territory, or tribe can have primacy authority for all well classes, or for selective classes of wells. If a state, territory, or tribe has not been granted primacy by the EPA, then the EPA implements the federal UIC program itself.
Currently, the EPA directly implements the UIC program for Class II wells in nine states, three territories, the District of Columbia, and for all tribes except the Navajo Nation and Fort Peck Tribes.
A state, territory, or tribe requesting primacy for Class II wells under SDWA Section 1422 must show their UIC program meets the statutory requirements under SDWA Section 1421, and must also demonstrate that their UIC program requirements are at least as stringent as the minimum federal requirements in the federal UIC regulations.
A state, territory, or tribe requesting primacy for Class II wells under SDWA Section 1425 must also show their UIC program meets the statutory requirements under SDWA Section 1421, but have more flexibility in variance from the federal UIC Program regulations, found at 40 CFR Parts 144 - 148. Rather than demonstrating that their program is at least as stringent as the federal UIC Program regulations, a state, territory, or tribe has the option of demonstrating that their program is effective in preventing underground injection from endangering underground drinking water sources.
40 CFR Part 147 describes each state's UIC regulatory program provisions, outlining which part of the UIC program is delegated to the state and which part of the UIC program is overseen by the EPA. State programs can account for state-specific factors, including local geology, environmental concerns, and economic priorities. This makes several state regulations more stringent than the federal government's requirements.
Jurisdictions may designate different regulating entities within their jurisdiction as the primary enforcement authority depending on the class of the well. This is often the case when a state holds primacy for multiple classes of wells. Wyoming, for example, has the state's Department of Environmental Quality manage Class I, III, IV, & V wells, while the State's Oil and Gas Conservation Commission manages Class II wells which involve the injection of fluids associated with oil and natural gas production operations.
For more information regarding Primary Enforcement Authority for the Underground Injection Control Program, see the  EPA UIC webpages
For more information on State entities managing classes of wells within their jurisdiction click the relevant EPA region: Region 1, Region 2, Region 3, Region 4, Region 5, Region 6, Region 7, Region 8, Region 9, Region 10
Federal and State Regulation of Class II Wells
While UIC programs were not designed with seismicity in mind, they are, by default, currently the principal mechanism for avoiding or mitigating inducement of earthquakes from oil and gas development.  The Induced Seismicity (IS) project is laying the groundwork for analyzing the effectiveness of state and federal UIC regulation with a comparative database of regulations from EPA and seven states (Arkansas, Colorado, Kansas, Ohio, Oklahoma, Pennsylvania, and Texas) with significant oil and gas development that have, except for Pennsylvania, experienced induced earthquakes from wastewater disposal.
The IS Project dataset of laws and regulations is hosted by the Policy Surveillance Program (A LawAtlas Project) housed at the Temple University Beasley School of Law. Access the dataset at IS from Oil and Gas Wastewater Or go to (http://lawatlas.org/topics) (choose Environmental Health, then "Induced Seismicity from Oil and Gas Wastewater Injection").  The project compares regulations among EPA and the seven states through a series of questions regarding regulatory authority, well siting and permitting, well construction and operation, public notification, financial assurances, and liability.
For a detailed comparison of the law of the eight jurisdictions, see the project summary report.
State Regulations Targeting IS
States are responding to both speculation and confirmation of wastewater injection induced seismicity with review and some revision of their regulations.  For example:
Colorado requires an operator to define, prior to permit approval, the seismicity potential and the proximity to faults through geologic and geophysical data if historical seismicity has been identified in the vicinity of a proposed wastewater injection well.
The Texas Railroad Commission revised its wastewater injection regulations in August, 2014 to add various permit requirements and to clarify the authority of the agency to take action if a well is likely to be contributing to seismic activity.
Oklahoma has responded with a "traffic light" system applied to both permitting decisions and active disposal wells. Oklahoma's rules address various issues including permitting, monitoring, testing, and reporting requirements.
See Regulating Our Way to Earthquake Free for a preliminary analysis of legal and policy avenues to eliminate or minimize induced seismicity.